Broadcasting: The Radio Years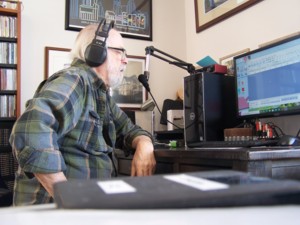 In 2017, I became the Program Director on Bell Buckle Radio, an internet station based in Bell Buckle, TN and broadcast through the Live365 on-line network. I am also host of my own "Foster's Corner" program on the station. I work from my home in Strasburg, VA.

My broadcast career begin in 1980 where I started co-hosting an "All Night Show" on WAMU-FM in Washington, D.C. with Les McIntire. This program was part of the stations annual "Bluegrass Weekend" programming. This continued until 1985, when the program became the weekly "Bluegrass Overnight" program on Saturday nights and included rotating hosts McIntire, Myself, Carol Pittard and later Al Steiner, among others. The program continued until 2016 when it was discontinued. The hosts were given a weekly 2-hour slot on WAMU's renewed "Bluegrass Country" music programming. I created my program "Fosters Corner", and when "Bluegrass Country" moved away from WAMU, I took the program to the Bell Buckle station.

Previously I also had a program on the World Wild Bluegrass internet station I called "Blue Wave Bluegrass", which I broadcast live from home on the Shoutcast software. Another previous internet program included "Back to Bluegrass" on the former Solid Gold Bluegrass channel.